Highwire Annual Subscription
Highwire is the Contractor Success Platform for builders and owners of capital projects. The world's most admired organizations use Highwire to ensure their contracting partners deliver great work, on budget and on schedule, by collaborating with them to dynamically mitigate safety, financial, quality and sustainability risks throughout the project lifecycle.

Our mission is for our hiring partners to elevate your business rather than tell you "you're in" or "you're out". Hiring partners follow our three-phase approach to elevating their partners, as described below. They…
Engage

the highest-potential partners and chart a path to shared success;

Collaborate

with partners on the job to dynamically mitigate new and evolving risks; and,

Review

project and partner performance together to continuously learn and improve.
To deliver on our vision of contractor success, we have committed to delivering a number of platform enhancements. They include
A partner network where hiring partners such as Google, Lendlease, and Skanska can find and connect with you;

A new user experience that you will love to work in each day;

Improvements to our Finance product to help partners better understand project capacity and operate on sound financial principles; and

New capabilities for elevating partners in the areas of quality and sustainability.
Highwire's fee structure takes into account your revenue, the number of trades you cover, and the number of hiring partners with whom you share your data. It is built to provide increasing discounts as our contracting partners increase their connections and trades.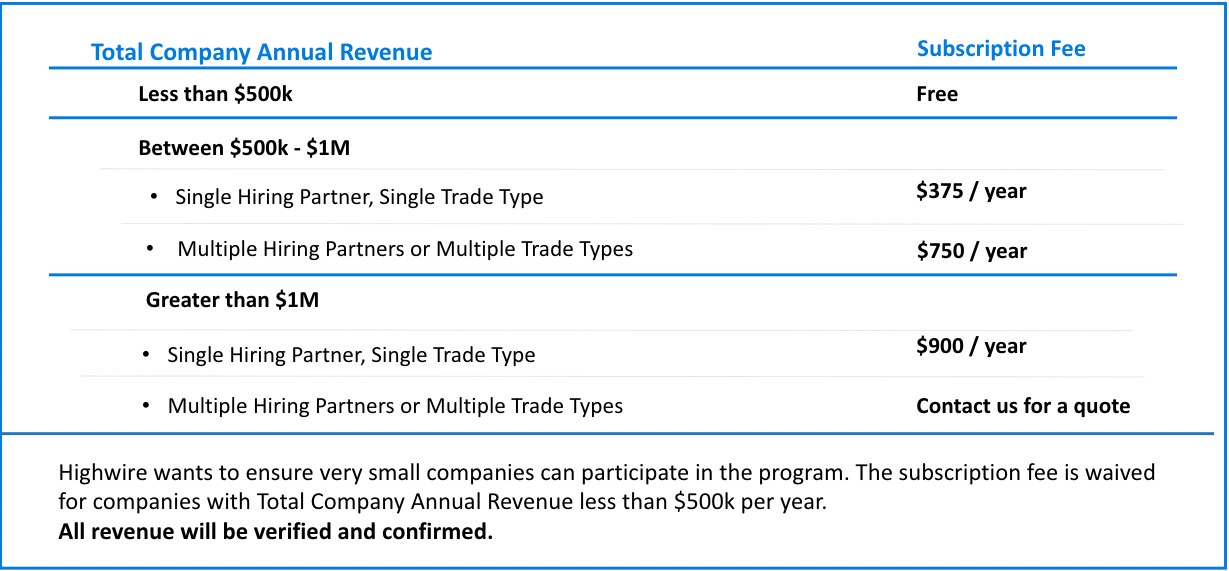 Please feel free to reach out to a member of our customer success team by calling +1 781-790-4920 ext. 1020, if you have further questions regarding the subscription or our upcoming initiatives. It is an exciting time to be a client and we thank you for your ongoing partnership.