Why do I need to upload my safety manual and/or safety program documents?
The Safety Assessment compares the answers you provide in the Management Systems, Program Elements, and Advanced Initiatives tabs to the content of your uploaded safety manual/documents.
For example, if you answer 'yes' to "Does your company have a fire prevention program" and your safety manual/document content does not have or does not meet the document requirements of a fire prevention program, the Safety Assessment application will detect that discrepancy and deduct from your score.
Safety Manual/Program document requirements:
Documentation is required for any affirmative response to the questions on the Management Systems, Program Elements, and Advanced Initiative tabs. A satisfactory response must be able to meet any or all of the following requirements:
A typical safety program should contain the following items:
Hazard recognition assessment.

Steps and or procedures to control the hazard.

Training materials and procedures for affected employees.

Competent person designation. (Person or Job Title responsible for implementing controls)
What is the content of my safety manual/documents compared to?
All 'YES' responses to the questions are evaluated against the ANSI Z10 Management Systems standard and the OSHA General Industry and Construction regulations. If the response does not meet those criteria, it is flagged as a discrepancy and points will be deducted from your total safety score.
How can I find the discrepancies between the questions and my safety documentation?
From the Safety tab, Dashboard section, click the icon next to "xx points deducted" in the Safety Manual Document row to view the results. This will show you the discrepancies identified by the program. If there are no discrepancies, the profile will say "0 points deducted" in this row.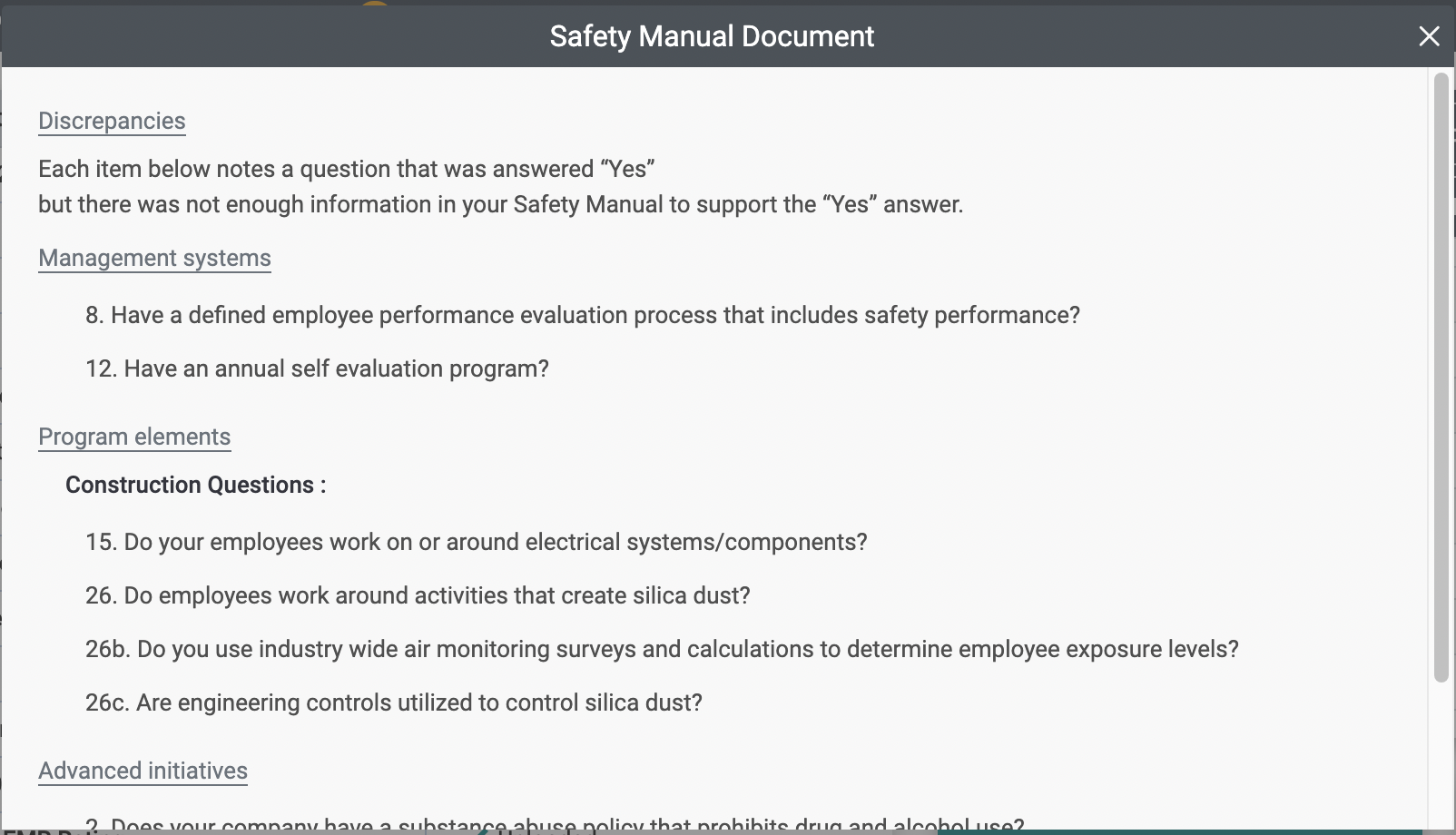 If you feel that your uploaded documentation sufficiently addresses any discrepancy you can request that Highwire conducts an additional review.
To expedite review of your documentation, we need you to provide us with the following information:
Reference the specific deduction/question you would like us to review (tab and question number)

Provide the file name of the uploaded document where the content can be reviewed

Provide the page number(s) where the content can be reviewed
If you do not have a program to support the discrepancy, you can visit these help articles for guidance on what a typical safety program should include and for guidance on the importance of safety management systems: Elements of a Safety Program.
A manual review of the documentation can take a few business days for our Certified Safety Professionals to complete. We will notify you via email when this review is completed.
Please contact us by clicking the Help Icon in the top right of your profile, or by clicking the Contact Us link here.